Hyderabad (Telangana) [India], September 20: The resounding success of the Ozone Run 2nd Edition 2023, an exceptional environmental initiative spearheaded by SWAN (Save Water And Nature), led by its dedicated Founder, Mrs. Meghana Musunuri, and Secretary, Mr. Sridhar Vunnam, has left an indelible mark on the landscape of environmental conservation. On September 17th, the Gachibowli Stadium played host to an extraordinary gathering of over 1,500 passionate participants who enthusiastically partook in the 2K, 5K, and 10K timed runs.
The event, graced by the presence of Chief Guest MP Santhosh Kumar and esteemed Guests of Honor MLA Arekapudi Gandhi, Corporator Jagdeeshwar Goud, and representatives from the British Deputy High Commission in Hyderabad, drew invaluable support from its Main Sponsors – Megha Engineering Infrastructure Ltd (Meil) and Green India Challenge.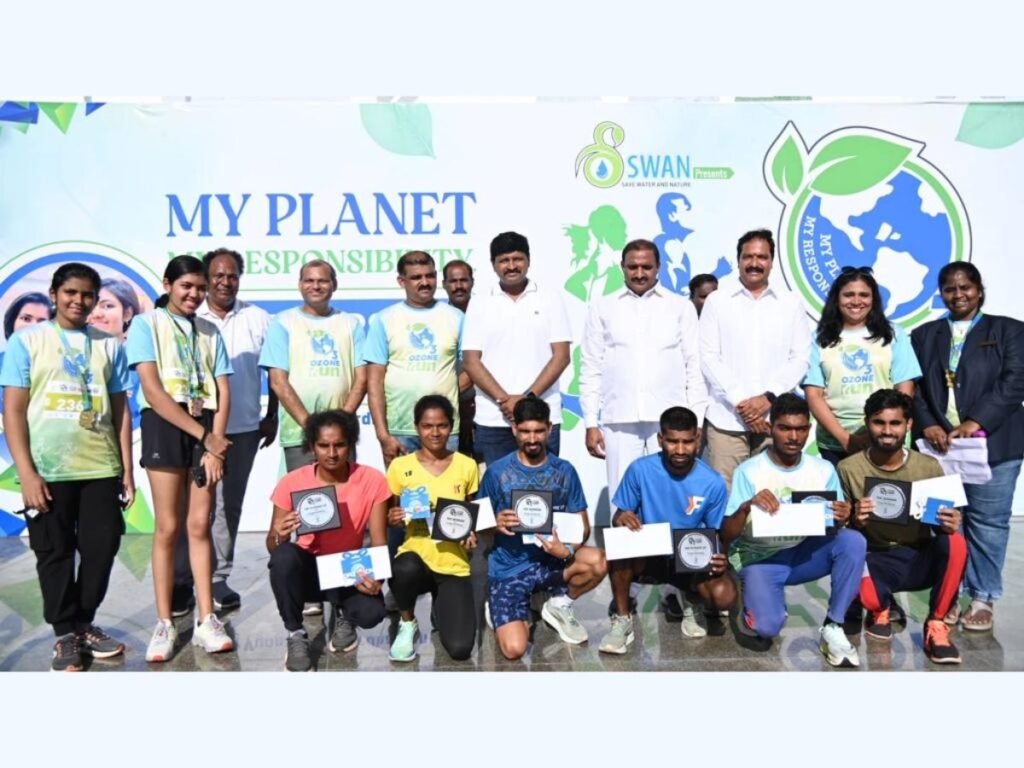 In a commendable move towards promoting eco-friendly festivities, Green India Challenge distributed Seed Ganesha idols, setting a remarkable example for sustainable celebrations. This groundbreaking event also featured awards honoring Climate Action Ambassadors and a heartfelt recognition ceremony for all the dedicated partners who contributed to its success. The pinnacle of the day was the presentation of trophies and winner coupons to the triumphant participants of the 10K run in four distinct categories.
The founders of the Ozone Run initiative, Bilvoa Vunnama and Teerdha Vunnam, have exhibited unwavering dedication to their mission of environmental preservation. Their visionary leadership, combined with the collective efforts of participants, partners, and collaborators, has culminated in a resounding triumph.
As articulated by Bilvoa Vunnam, "The United Nations Sustainable Development Goals (UNSDGs) encompass 17 goals that all 193 UN Member nations have committed to achieving by 2030." With a daring resolve to address pressing challenges confronting both humanity and the natural world, they embarked on a mission to combat climate change (SDG 13). This endeavor led to the inception of the "Ozone Run," a 10-kilometer run in Hyderabad aimed at mitigating the adverse effects of climate change on the ozone layer.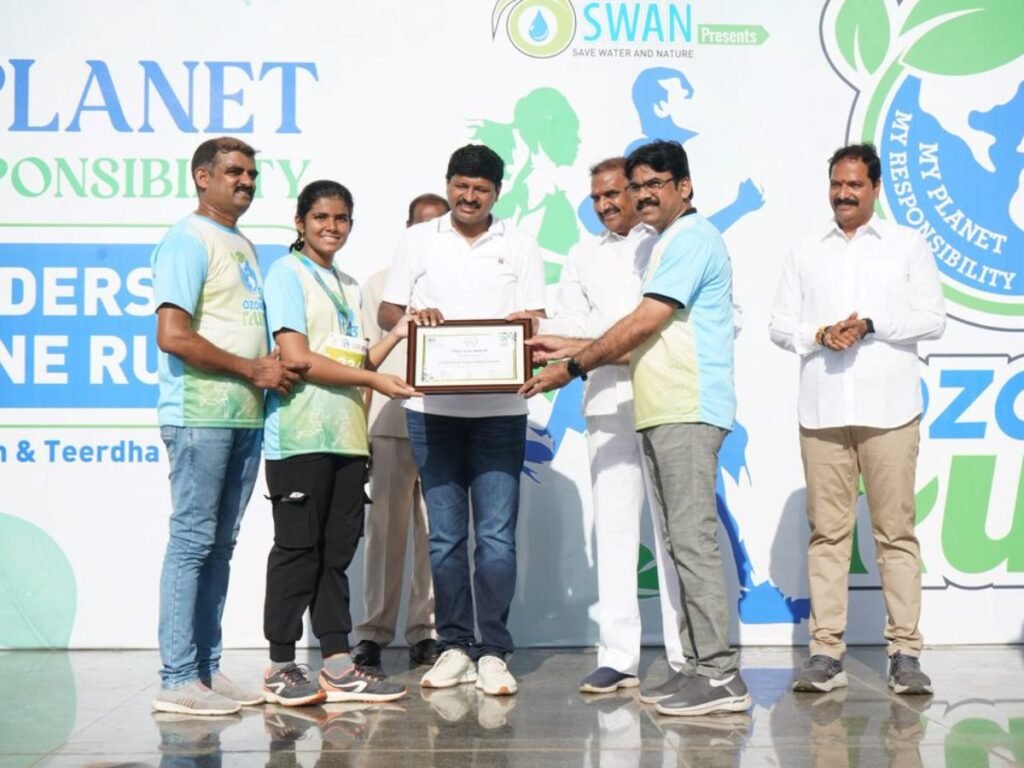 Teerdha Vunnam added, "The overwhelming success of the Ozone Run in Hyderabad inspires us to envision similar runs in every city and state across the country. These runs can serve as a powerful means to raise awareness about the impact of global warming on the stratospheric ozone layer." Observations indicate that as greenhouse gases accumulate and warm the lower atmosphere (troposphere), a cooling effect is occurring in the upper atmosphere (stratosphere). The heat from the Earth's surface that would typically dissipate through the troposphere and stratosphere, eventually escaping into space, is now largely trapped within the troposphere. A quick and effective remedy lies in increasing vegetation in urban areas.
Meghana Musunuri, the visionary founder of SWAN and chairperson of Fountainhead Global School & Junior College, emphasized, "We ensured that the Ozone Run participants had access to essential amenities such as water points, mobile toilets, first aid services, ambulances, breakfast, and even designated selfie points. Additionally, we celebrated the outstanding achievements of the first and second runner-ups in various categories."
The Ozone Run 2023 has undeniably set a precedent for impactful environmental initiatives and serves as a shining testament to what collective dedication and shared vision can achieve in the realm of environmental conservation.
Furthermore, the funds raised during this exceptional event will be dedicated to two vital causes – tackling the issue of plastic waste and enhancing road hygiene in Hyderabad. This commitment to sustainability underscores the event's broader mission to not only raise awareness but also take concrete steps toward preserving the environment and improving the quality of life in the city.
A formidable consortium of partners spanning various sectors rallied behind the event, ensuring its triumphant success. Among these valued partners were Hivision Developers, Sumo Healthy Biscuits, Preksha Eutech, KAFQA, Save Soil, Decathlon, Caro Water, Youth For Seva, the Police department, Traffic police, Radio City 91.1 FM, Telangana Today, Namasthe Telangana, Oro Sports Village, Citizens Hospital, Valmiki group, Strokes- The Swim School, Sreenidhi International School, DPS Miyapur, DPS Hyderabad, The Shri Ram Universal School, Meluha International School, Meridian School, Narayana group – KP Zone, Chirec International School, and Fountainhead Global School and Junior College.
If you have any objection to this press release content, kindly contact pr.error.rectification@gmail.com to notify us. We will respond and rectify the situation in the next 24 hours.