New Delhi (India), November 20: Ever found yourself in a situation where it seemed impossible to find homes that truly resonate with your personal touch?
Now, picture having your very own laid-back poolside retreat, the flexibility to engage in sports activities, and the chance to be part of lively rooftop parties – all right at home. Can you believe that the answer to that feeling of impossibility is right within your reach? Now, everything is within your grasp.
Whether you're in the mood for a leisurely poolside day, some sports action, or a lively rooftop party, this residential haven is designed to meet all your desires. The 3-tier security system brings a sense of peace, and there's even an outdoor meditation and yoga space for a serene escape.
From European-style interiors to wooden flooring and stunning balcony views to 6'x6' wooden doors, the experience is reminiscent of ancient Rome with a touch of modern comforts. The fusion of quality and value, featuring Yale Door Locks, Grohe CP fittings, and Schneider electrical magic, ensures that your home at VRX FETE is truly exceptional.
What makes it even more appealing is that these amenities aren't just for show; they're complimentary and accessible 24/7. Whether you're an early riser wanting a morning swim or a night owl yearning for a late-night workout, VRX FETE allows you to indulge whenever it suits you.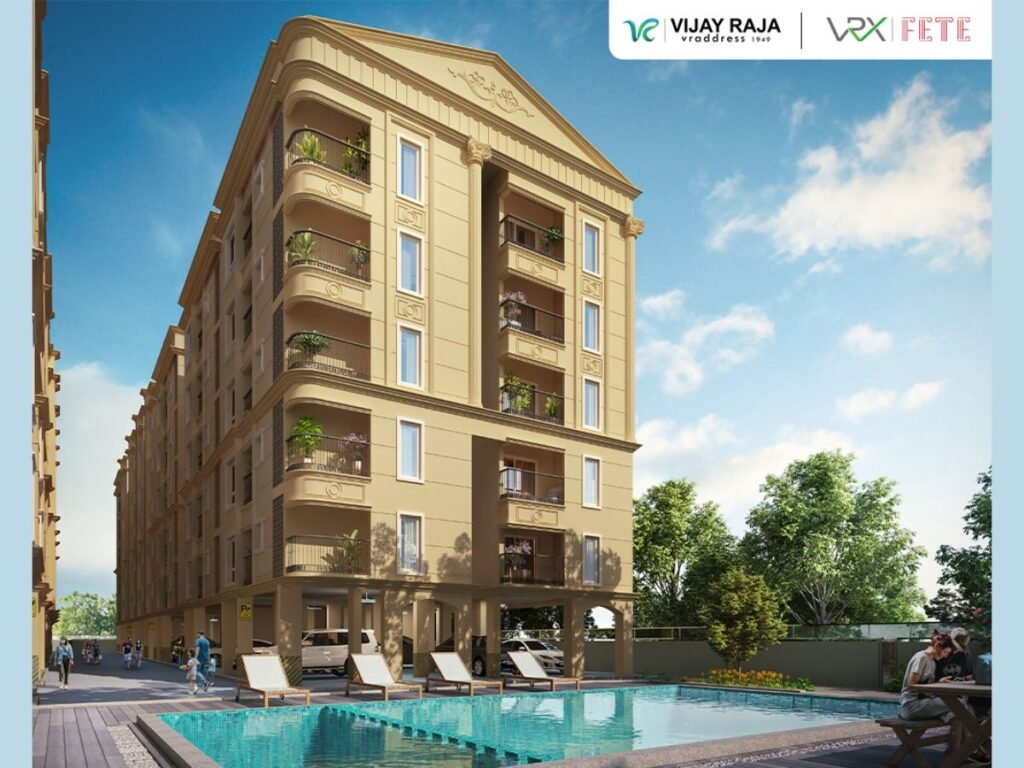 Strategic Location:
Do you often find yourself caught in the hectic routine of a commuter's life, sacrificing valuable moments with loved ones for the monotony of the road? If so, it might be time for a change.
Picture being just a short distance from crucial transportation spots like the upcoming Poonamallee metro station, the Parandur International Airport, and the lively Kuthambakkam bus terminus. By avoiding the hassle of navigating through daily chaos, you can enjoy a life where your journey is as smooth as reaching your destination.
Poonamallee stands out as a significant real estate investment hub, primarily due to its strategic positioning. Located at the convergence point of two major highways, it ensures smooth connectivity from Chennai to various parts of the city. With over 80 companies employing a workforce exceeding 5 lakhs, it is merely 4 minutes away from malls, amusement parks, multiplexes, and other essential social infrastructure. Additionally, it is a convenient 20-minute drive from the proposed Greenfield Airport. Within a 10-kilometer radius, there are more than 20 schools and top colleges, and it is situated just 500 meters from the Chennai–Bangalore Highway. The upcoming metro station is a mere 4 minutes away, making it a rapidly growing area with the presence of IT parks, manufacturing units, and other industrial companies in close proximity. 
In conclusion, VRX FETE emerges as more than just a residential haven; it's a transformative escape from the commuter blues, offering a luxurious lifestyle in the strategically positioned hub of Poonamallee. The ideal location, complemented by top-notch amenities, makes this Roman-themed apartment an appealing choice for those seeking comfort, convenience, and growth opportunities.
Investing in VRX FETE not only secures your dream home but also ensures a high-quality living experience without compromising on essential amenities. With over 50 amenities suitable for all age groups, this South Indian real estate gem promises a comfortable and thriving lifestyle. So, seize the opportunity and invest in VRX FETE to witness your investment flourish.
Vijay Raja Homes, with its 74-year legacy, stands as a testament to excellence in South Indian Real Estate and Infrastructure Development. Having delivered over 8.7 million square feet of residential joy to 8,744 customers, the company remains dedicated to quality and customer satisfaction. Explore housing options in their ongoing projects in Thiruporur, Thirumazhisai, and Poonamallee, offering a diverse range of choices from snug studios to spacious 2BHKs, catering to various preferences and lifestyles. Your dream home is within reach with Vijay Raja Homes.
Contact for more details: 9962200413.
If you have any objection to this press release content, kindly contact pr.error.rectification@gmail.com to notify us. We will respond and rectify the situation in the next 24 hours.