Mr Bhatt's unique art brings recognition to Gujarat and India on the global stage; Australia's ex-PM gives him a symbolic gift.
Ahmedabad (Gujarat) [India], September 21: Deepak Parshuram Bhatt, a renowned miniature artist from Ahmedabad, is making waves not just across Gujarat or India but also on the international stage. His extraordinary artistry left a lasting impression on former Australian Prime Minister Scott Morrison, Mayor Sameer Pandey, and MP Mark Kare during his recent visit to Australia.
Mr Bhatt's feat involved crafting a greeting letter of 70 words on a single grain of rice, which in itself is the same size as a letter.
The artist from Ahmedabad gifted former PM Scott Morrison a rice grain with Australia's emblem drain on one side and a kangaroo on the other. The intricate workmanship of his artistry overwhelmed Mr Morrison, who gave a special symbolic gift to the artist. Mr Pandey, the Lord Mayor of the City of Parramatta, presented the Australian national flag and a symbolic coin to Mr Bhatt.
Sharing more details, Mr Bhatt said, "I spoke about my miniature art while visiting a friend in Sydney. He was so impressed that he arranged for me to meet the city's Lord Mayor, Sameer Pandey. Before our meeting, I inscribed a 70-word greeting letter on a grain of rice, which left him overwhelmed with astonishment."
Mr Bhatt said that he also had the opportunity to meet Mark Corr MP, Member for Otley, NSW, Australia, and presented him with a similar greeting letter.
"I had the opportunity to share more about my other miniature art achievements. Above all, former Australian PM Scott Morrison was deeply impressed by my artistry. It fills me with immense pride to witness India's name shine through the medium of art," he said.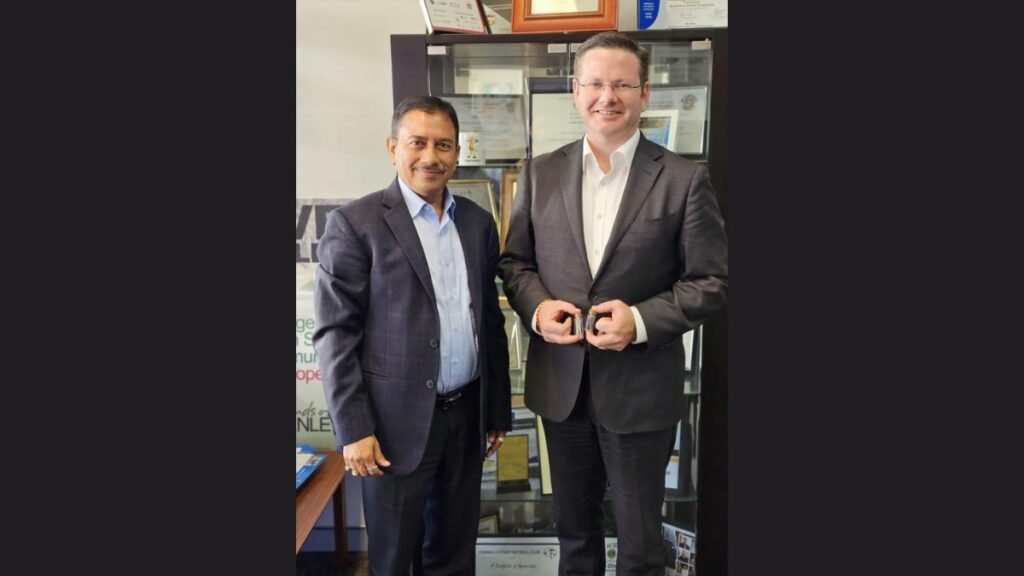 Mr Bhatt has achieved numerous milestones in his career, including using his art for charitable purposes. Following the Pulwama attack of 2019, he auctioned his artefacts to raise funds for families of martyrs, contributing a sum of Rs. 1.51 lakh. He also supports the education of underprivileged students with proceeds from his art.
Originally hailing from Soldi village in Dhrangadhra, Mr Bhatt currently resides in Naroda, Ahmedabad. His accomplishments have brought immense pride to his village as he continues to earn accolades and recognition. He has also been featured in the Guinness Book of World Records, the India Book of Records, and the Limca Book of Records.
He is recognised in the Limca Book of Records for creating a one-inch vertical hole in a strand of scalp hair, while in the India Book of Records, he is celebrated for crafting an idol of Lord Ganesha from a betel nut on a moving bike.
Mr Bhatt's art has also been noticed by other eminent figures. Former Gujarat Chief Minister and current Prime Minister Narendra Modi received a rice grain bearing his image, along with the inscriptions "Jai Jai Garvi Gujarat" and "Kamal", as a gift.
He had gifted an intricately inscribed image of Yogiji Maharaj on a mustard seed to Pramukh Swami Maharaj. He also presented a greeting letter on a grain of rice to Canadian ministers, leading to his felicitation by Canada's working parliament. He further inscribed 396 letters on a single grain of rice, a remarkable feat which he presented to Naresh Chandra Saxena, former Governor of Gujarat, in 1996.
Further, Mr Bhatt wrote 148 letters on a sesame seed as a letter to cricket icon Sachin Tendulkar. Among his other notable creations is a rice grain, which, upon opening, reveals an idol of Lord Ganesha inside a meticulously crafted box that can be closed and opened.
If you have any objection to this press release content, kindly contact pr.error.rectification[at]gmail.com to notify us. We will respond and rectify the situation in the next 24 hours.